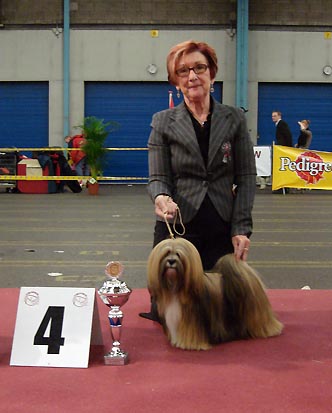 The Bleiswijk International CACIB Dogshow in Holland: Judge Mr. K. Nathan from the UK for our Lhasa Apso breed. My junior female EL Minja's Nashua 17 months old won the Junior class with JCAC and obtained Best Female CAC and Best of Breed, Nashua won 1st excellent 3 times back to back with 2 Best of breed included in Holland and is Dutch Junior Champion, my EL Minja's Mercedes won the res.CACIB.
In the honorary ring EL Minja's Nashua was placed Best in Group 4 under judge Mr. Hans Boelaars from Holland, great result for such a junior Lhasa.
In Letohalle, Norway Champion EL Minja's Solar Kyi won Best of Breed and Best in Group 1 !! congratulations for Sylvia, Tove and Lia.