At the Great International outdoor Dogshow in Uden, CH EL Minja's Jewel of Tibet obtain best male with CAC/CACIB and my Lhasa Apso
Champion Lily won best female with CAC/CACIB and fulfilled the requirements for Dutch Champion
in only 5 shows !!and Lily won Best of Breed and Best in Group, My young male Jo-Bo obtained 2nd in his
junior class with excellent. The judge was Group 9 specialist Mrs Toebak-van Valkenburg from the
Netherlands. [for Dutch Champion 4 CAC's are required] .
In America EL Minja's Awa Skar Mo wonat the Buckhorn Valley Kennel Club, Inc Dogshows shown under judge Monica Canestrini
Mojo won Winner's Bitch & BOW and at the Sunday show Winner's Bitch under judge Florence A Miles, Mojo is always shown by Fran Strayer congratulations Fran.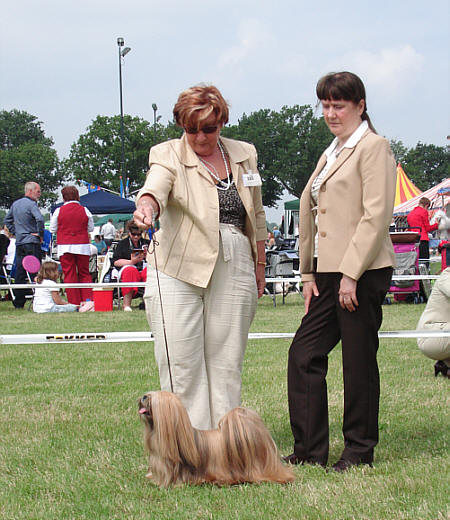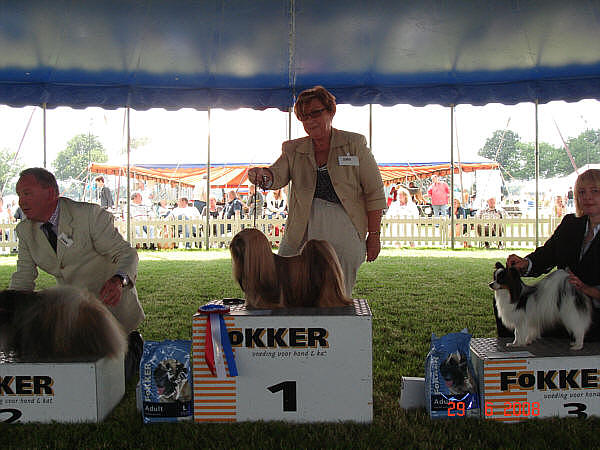 Dutch Champion with Best of Breed and Best in Group
Lily with Sylvia and judge Mrs Jans Toebak-van Valkenburg
You can find more information at the source Lhasa Apso website
EL Minja's Lhasa Apso Top kennel