International outdoor Dogshow in Hulten, our Lhasa Apso Lily won best female with CAC/CACIB and Candy obtained the reserve female with the RES.CAC CACIB, our young male Jo-Bo obtained 2nd in his juniorclass with excellent. The judge was Mr J Weinberg from Germany.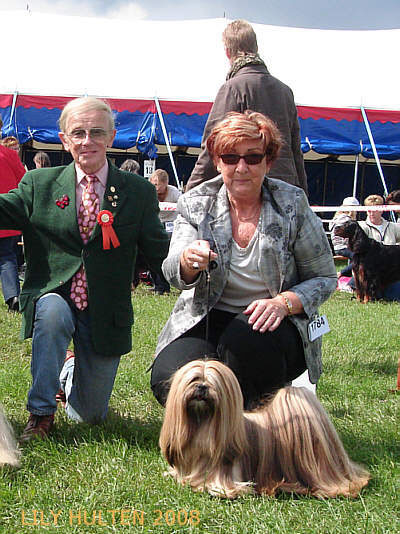 Mr Joachim Weinberg, Sylvia and Lily at Hulten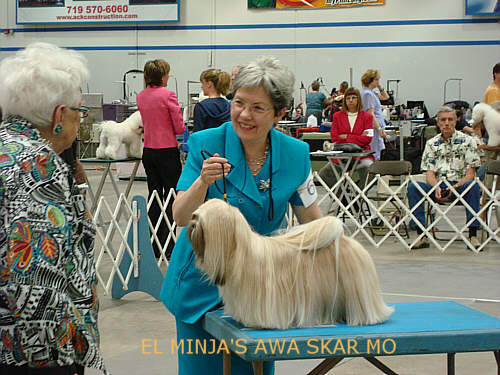 Judge Mrs Mildred Bryant , Fran with Mojo
In the USA EL Minja's Awa Skar Mo at the Colorado Springs Kennel Club Shows Saturday show under Breeder Judge, Mildred Bryant, Mojo Was Winners Bitch & Best Of Winner, Alie was BOB. On Sunday Mojo was Winners Bitch shown by Fran congratulations and thank you so much Fran!
At the Norwegian Kennel Klubb Trondheim 8.6.08 International Show under Judge Envall-Larsson Rose
EL Minja`s Luna won CERT. Bitch Res.CACIB ( she needs 1 point after august 5 and Luna will be Norwegian Champion, EL Minjas Solar Kyi won CK (cert Quality)- 2 Male , congratulations for Tove and Geir!
In the USA, EL Minja's Awa Skar Mo shown by Fran won Best of Winners under judge R E Banghart at Colorado Springs dogshows, well done Fran. In Denmark EL Minja's Xivas won under the Swedish judge mr. Bo Skalin best junior at national Kennel Club Show in Varde. Thanks Jette Yeoman for showing Xivas.
In the USA, Candy's sister "Alie" obtained her American Championship title and won Best of breed over specials lots of congratulations Bev !!, Alie, is the 3rd Champion out of Wicket X Daisy litter and this litter is the second generation EL Minja's in the USA!, at the same dogshow
EL Minja's Awa Skar Mo shown by Fran got the reserve winners bitch, well done Fran. In Norway at the "Mo I Rana dogshow" Tove Anita won with EL Minja's Solar Kyi won best male with CAC from junior class, also congratulations for Tove !
Lhasa Apso information explorer website
EL Minja's Lhasa Apso kennel